Communication and, more specifically,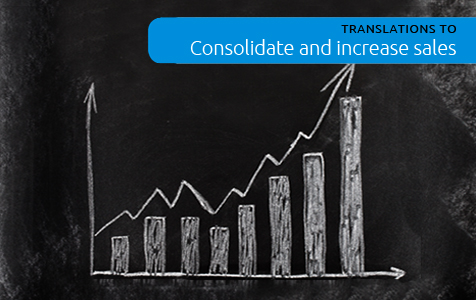 translation are genuine business drivers for your clients. To address your prospective clients in their own language is the most efficient way to make them understand you perfectly, thus being able to offer them whatever product or service.
This statement is based on the premise that we feel more at ease if we understand what we buy. If we do not clearly understand a product or service, we are reluctant to request it.
Several international studies confirm that, in spite of living in a globalised world, buyers still opt for proximity as well as for products or services that are being offered in their language in order to purchase without any fuss.
Hence the importance of translation. To address your prospective clients in their language will convey the trust and proximity they need to opt for and purchase your products or services instead of those of your competitors.
Visit the section What we translate, in the upper menu, where you will see all the translations we deliver to help companies increase and consolidate their sales.
Example of a multilingual translation of a website
Important hotel and restaurant chain with several renowned establishments in Barcelona, which decided to relaunch their website with a new image and its translation into several languages. Apart from the languages they had already translated their website into beforehand, they decided to translate it also into Japanese, a market niche they detected and wanted to exploit. Barcelona is a booming and trendy city in Japan, hence they were aware of the fact that offering their website in that language may significantly increase sales among that population.
At Planet Lingua we have carried out the website translation into Japanese with excellent results. The team involved (linguists and technicians) had to exert their maximum effort to be able to include Japanese characters on the website, which was a great challenge. The end result was highly successful, and we are currently updating the website with contents into different languages each time they so require.
Since the website is also published in Japanese, the hotel chain has experienced a significant increase in its sales, whereas bookings made by Japanese tourists have surged. This has impacted both its hotels and restaurants, as Japanese tourists are passionate about Spanish cuisine.
Example of the translation of advertising catalogues, brochures, news as well as texts for blogs and social networks
Company producing and marketing processed stationery products and school accessories.
Thanks to its successful products in Spain, they decided to look for opportunities abroad and are currently distributing them in more than 60 countries due to that brave decision.
Being aware of the need to convey their message in the target language, so as to ensure their successful expansion, but with the intention of saving costs, they decided to translate their texts mainly into English. The translations carried out by them comprise all fields, but include mainly commercial and marketing translations as well as the promotional texts appearing in their social networks, where they are very active.
Said translations help them consolidate and increase their sales abroad, and, as a result of this international strategy, at present exports make up more than 30% of their turnover.
If you need to request a quote or to be informed on any of our translation services, contact us by means of our
form
, by email to
info@planetlingua.com
or by telephone on
+34
93 284 60 55
.