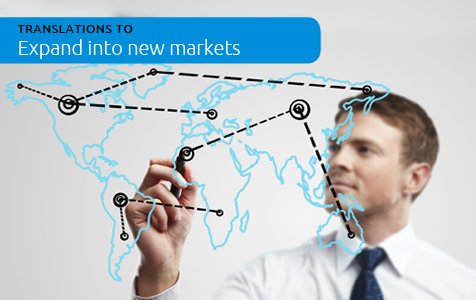 To translate means expanding your products, services and company beyond your borders. Be it nationally or internationally, translation becomes an essential tool to be able to expand your company. Translation services culminate campaigns based on the premise of conveying ideas, values and benefits to our clients. We must not allow this message to fail once we have decided to take that leap forward and grow by expanding to new markets.
Planet Lingua offers advice on your products and services going international, while we help you adapt them for export and take care of the whole localisation process of the business platforms, your product software, your website, your web applications, etc.
In the world of business, language may be tantamount to a real obstacle race full of potholes, nonsensical content and loss threats or, else, to a bridge towards great opportunities, successes and cost reductions.
In the upper menu, you may refer to the section What we translate to see all the documents we translate related to the expansion into new markets.
Example of the translation of maintenance manuals and instructions for use
Manufacturer of lifts and elevators for professional supply in the course of international expansion.
Since 2011 Planet Lingua has been translating their maintenance manuals and instructions for use and assembly, apart from other general documents (business letters, news, marketing texts, etc.) and legal deeds.
This is an example of a company that cares about communication with regard to clients and suppliers, thus translating their documentation mainly into English, French, Portuguese and Russian, as it is in these countries, where said languages are spoken, that their main clients are located. They understand the need to address them in their own language to be able to increase their sales and continue their growth, as they have done so far. In the wake of internationalisation, they have started to translate into Brazilian Portuguese as well, after opening a branch in that country.
For their projects, we always work with the same team of translators and reviewers, who have been specialising in their vocabulary over time. Thus, we ensure that all our client's texts are always consistent and read alike, without any terminological or style divergence. We keep translation memories, which allow us to retrieve former translations so as to maintain a homogeneous terminology and style.
Example of the translation of a website and other documents into English and Arabic
International reference centre in ophthalmology, at the cutting-edge of surgical and drug treatments, research and teaching. Their leading work consists of a permanent contact with society, their patients and the main eye care actors. To foster its outreach, they know that communication is their main channel.
They attend to patients of all nationalities, therefore they make sure their documents and website contents are fully available in English. In the last year, they have launched their expansion into the Near East, thus we have also started to work with Arabic as a target language.
They need the translation of their website contents, but use our services as well to translate and review their corporate journal, training material for conferences and sessions, CVs, business letters, medical reports, brochures, agreements, articles, etc.
All of the above with the aim of continuing to consolidate themselves as industry leaders, increase the number of patients and achieve a greater market expansion. There are no borders for our client, and they always prove it right with their proactive work and by constantly showing up in social media and networks.
We have been working with them for many years now, thus we boast a significant translation memory and extensive reference material that our linguists refer to whenever they carry out translations for them. By means of computer-assisted translation tools we are able to translate texts more swiftly and, what is more, unify all their specialised terminology.
We rely on a team of native translators, to whom we always allocate the translations from this client, since they already know their style and the specific needs they have.
If you need to request a quote or to be informed on any of our translation services, contact us by means of our
form
, by email to
info@planetlingua.com
or by telephone on
+34
93 284 60 55
.