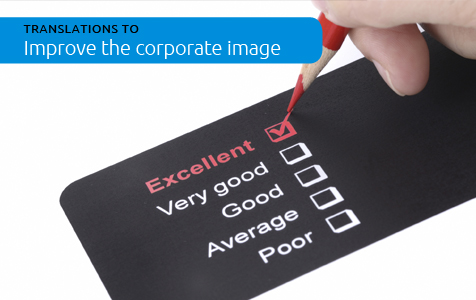 The corporate image of any company, be it large or small, is essential to convey trust as well as the brand value to investors and shareholders, to project professionalism and to attract clients, suppliers and employees. More than 80% of a client's purchasing decisions is influenced by the image conveyed by the company.
The text and its use are part of the corporate image of any company, and its correct or inadequate utilisation will have a crucial impact on the success or failure of said company.
Planet Lingua is aware of the importance and impact a good translation may have for the company, hence we make sure each text is taken care of down to the smallest detail.
Enter the section What we translate in the upper menu to get to know our translation services aimed at improving the corporate image.
Corporate image and social awareness: example of the translation of annual reports, memos and press notices
Non-profit organisation whose aim is to offer eye care solutions to people with visual deficiencies and without financial resources in disadvantaged countries. Improves the quality of life of these inhabitants by offering material, training and awareness-raising on the importance of eye care.
Needs translations into Portuguese and Arabic of their annual reports, memos, press notices, newsletters, brochures, etc., for regions and countries as diverse as Sahara, Mozambique, Bolivia, Mali, Gaza, where interventions, training the local staff, supplying equipment and material to health centres and local workshops, preventing eye pathologies and organising the country's eye health are required, among others.
We do our bit by collaborating with the Foundation and offering very tight rates for them to be able to carry out their many translation projects into different languages.
Said translations are an essential tool to spread the useful activities launched by this organisation.
Example of the proofreading of the original website contents
A federation promoting free zones by offering legal, technical and financial support, while prioritising especially new economies. They have created an online directory with an extensive database on the world's free zones. It is a website where all sectorial information may be looked up.
Planet Lingua received the order to proofread the whole original text that had already been drafted by the members of the federation to ensure a correct language use, as none of the authors was a mother tongue speaker nor a linguist, in spite of knowing the English language very well.
A team of native linguists specialising in the subject matters of foreign trade and internationalisation proofread all the original contents and applied the necessary amendments to achieve a fully consistent text that would convey the seriousness and importance of its contents.
At the federation they were aware of the fact that the image conveyed through the website is the organisation's showcase and that an investment was needed in order to get an original text that was neat and polished by language and subject experts.
If you need to request a quote or to be informed on any of our translation services, contact us by means of our
form
, by email to
info@planetlingua.com
or by telephone on
+34
93 284 60 55
.