Translation of websites, blogs, multimedia applications and software
There are many companies that entrust us with the translations of their websites, blogs, newsletters, intranets, applications or software (CRM, ECR and ERP).
Not only do we translate from Spanish into any language or from other languages into Spanish, but we also offer you linguistic advice so that the translation adapts to the specificities of the language of your target client's country.
Our vast experience in carrying out this type of translations for companies of different sizes and industries makes us knowledgeable of the importance these jobs have to convey a correct corporate image, acquire new clients or expand to new national or international markets.
The process we follow is simple and efficient:
1. Submitting the link to the website or material you need to translate.
2. Analysing the files and preparing a quote. At the same time, we establish the ideal language team to take care of the project.
3. Once the project has been accepted we translate and edit the files. Sending the translated material within the agreed deadline.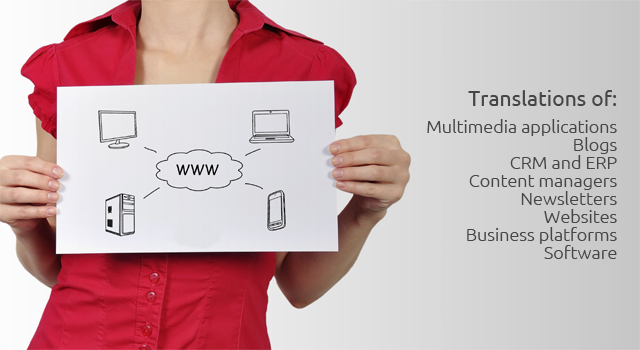 Moreover, we offer the following complementary services:
– Review of the original text
If the original text contains significant language errors, the corporate image is seriously damaged and may stop a great campaign to launch a new website. In order to save the company costs, we offer the service of reviewing original texts. Thus, we ensure an impeccable original text, as well as a great translation.
– Incorporating the translated text directly in its target place
In order to save you time, we offer you the possibility of incorporating new texts directly in the website through the content manager. Thus, the task of copying and pasting text will be done by somebody who understands the language of said contents: an easy way of avoiding possible errors.
Our turnaround time is short and efficient, as we boast technical software as well as a specialised and experienced team of linguists who are used to working fast.
Visit our section Why translate in the upper menu to be able to see how translation may help your company in its professional evolution, apart from some examples of case studies that have already hired our translation services.
If you need to request a quote or to be informed on any of our translation services, contact us by means of our
form
, by email to
info@planetlingua.com
or by telephone on
+34
93 284 60 55
.