A correct and efficient communication is a great tool for your company. It will be your main ally. If you are committed to communication at your company, you are already on the winning side. If you are not yet committed to it, we invite you to take it into account, since every business strategy is based on communication. A message which is not clearly conveyed and does not address the target audience negatively impacts the effort made and the investment it represents.
Translation is also part of this communication strategy. Translating is, in fact, a communication form. The thing is to convey that message in another language, while taking into account the cultural specificities of the people who are going to receive it.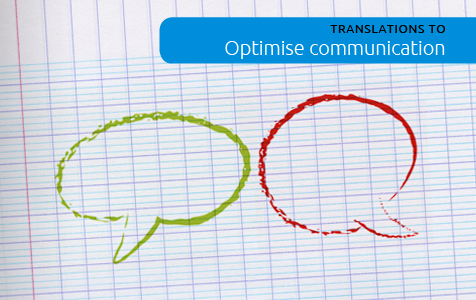 At Planet Lingua we are aware of the importance of correct and efficient communication for any company. Therefore, below you will find the four main communication types your company may encounter. Moreover, we show you how translation helped to improve communication in the company by means of case studies.
Furthermore, if you would like to see which types of translation we can offer you to optimise communication in your company, we invite you to visit the section What we translate.
Communication with suppliers
This is a key aspect every company needs to take into account to be successful. In the end, suppliers are additional ambassadors of our products and/or brand; it is, therefore, Planet Lingua's aim to help establish a fluent communication without bothering about language.
Correct communication with suppliers allows you to generate a better end product or service, which will result in greater client satisfaction, hence in larger business sales.
A good relationship with suppliers allows you to position yourself above your competitors, conduct favourable negotiations and solve any problem.
Planet Lingua helps you achieve the most fluent communication possible, especially with those suppliers whose language differs from your company's.
Refer to the section What we translate in the upper menu to see all the translation types we carry out to improve communication with your suppliers.
Example of the translation of the labelling and packaging
Important Spanish supermarket chain with private label products they export to different countries and which is highly present in tourist areas as well.
Said chain decided to label everything in the languages of their main purchasers in order to ease understanding of their products both for their clients and suppliers. For clients it is easier to find all the ingredients of any product in their language, which makes shopping easier, creates trust and increases sales.
However, with regard to their suppliers, they also realised that translating all the packaging and merchandising material eased communication with them greatly. This way, their suppliers understood the marketed products perfectly well, thus being able to sell them better. This represents a significant increase in sales as well as a direct and reliable communication exercise both between company and supplier and supplier and end client.
Planet Lingua has been working with this supermarket chain for years now. The jobs done include short and apparently easy translations, yet their direct involvement with food and hygiene may entail critical consequences, if translations are inconsistent and incorrect. Aware of this fact, they entrust us regularly with their small translations for us to deliver them into Portuguese, English and German.
Communication with employees
Communication with your employees fulfils the task of integrating them into the company's established targets. Inter-departmental communication throughout all company levels arouses trust and contributes to a positive atmosphere within the company, which makes it easier to exchange information on improvement, control and measuring actions.
The impact of bad communication is devastating in terms of profit and loss for any company, whereas productivity grows exponentially when employees consider themselves to be informed and involved in its development.
At Spanish companies with branches abroad or international companies with offices in Spain, clear, straight and simple communication with employees in their own language represents a key and essential factor for success.
Visit the section What we translate in the upper menu to see how we may help you improve communication with your employees through the translation of required documents.
Example of the translation of technical manuals and training materials from German into Spanish
Leading German multinational dedicated to manufacturing seats for all sorts of vehicles, which boasts branches throughout Europe, as well as Asia and America.
The technical documentation they distribute from their headquarters is drafted in English and German to a great extent. Planet Lingua works with the Spanish office when they require the translation of specific technical documentation mainly from German into Spanish.
The company holds highly specialised technical documents. They include assembly manuals, technical specifications for machinery, production reports, product approvals, risk assessments and collaboration agreements, among others.
Although the multinational's official languages are English and German, they understand the need to translate this type of documentation for the operators working with said machines – especially when somebody new joins the team – to understand their correct operation and achieve the highest output of their work.
Translation of said documents may avoid interpretation errors, hence ensuring correct use of the machinery, apart from avoiding important interruptions in the production line and even possible accidents, which is tantamount to planning strategically in terms of means and resources and reducing costs dramatically.
Communication with shareholders and investors
Transparency and information are key to gain your shareholders' and investors' full trust. Being quoted on a stock market involves a series of information commitments and obligations the company must fulfil with regard to regulating bodies and shareholders.
Your communication with analysts and investors must be clear and systematic, while allowing them to assess decisions of great importance. Furthermore, nowadays many shareholders, investors and analysts have an international background, hence correct communication in their own language is essential to establish good relationships with them.
Visit the section What we translate to be able to see the translation services we offer you to improve relationships with your shareholders and investors.
Example of the translation of marketing campaigns, annual account statements, balance sheets and financial reports
Financial services cooperative operating in several autonomous regions in Spain, which understands the importance of using the official languages of these regions when addressing clients and suppliers as well as shareholders and investors. They are highly conscious about the importance a financial institution's image must convey so as to afford its shareholders and investors security and trust. They know that their communiqués' contents are an essential part of that image, so much so that they polish them down to the tiniest detail to ensure that their quality is always impeccable and consistent with the financial services they offer.
We translate their documents into Catalan and proofread their texts both in Spanish and Catalan. Some of the documents we usually translate for them are leaflets, business letters, brochures and all sorts of marketing material, through which they communicate with their current and prospective clients. On the other hand, we regularly translate all necessary documents for their annual shareholders' and investors' meeting (annual account statements, balance sheets, analyses and annual reports). Occasionally, we also deliver legal translations from English into Spanish and vice versa.
Our language quality coordinator and the head of communication of this institution met on various occasions. As a result of said meetings, the style guides to be followed were drafted and a glossary was agreed upon, which ensured its homogeneous use when describing the different services on offer. The style guides have become our reference book when working on their translation and proofreading projects. Owing to the sensitive documents we work with, a non-disclosure agreement was signed in order to guarantee utmost discretion when processing that information.
Communication with authorities and public bodies
With the aim of abiding by numerous rules, directives and regulations required by the local authorities, drafting multilingual documents is often needed.
Communication with a country's authorities and public bodies is a very sensitive type of communication which asks for a highly specific language. Apart from knowing the special requirements each document has, you need to take into account the body it is going to be submitted to, where this document is targeted to, the country where it is being submitted in and the reason why it is required.
Likewise, if you entrust professionals from the industry with the drafting of said documents, you should do so as well with translations. This is the only way to avoid the negative consequences a low-quality text may cause you: rejections, delays, penalties, proceedings, rescissions, waivers, revocations and so on and so forth.
Refer to the section What we translate to see all the translations we carry out based on this type of communication.
Example of the translation of legal and financial documents for public bodies
Manufacturer of automotive products in Spain, branch of a larger international group.
The client needed all the group's financial and legal documentation to be translated from English into Spanish to submit it to Spanish official bodies and had a very tight deadline to prepare, adapt and translate all the necessary documents. In case said documents were not submitted on time and without the required quality, this would entail fateful consequences for the client and the group as a whole.
Due to the large file volume to be translated and the short timespan available, the project was distributed among several translators specialising in the financial and legal fields, whereas a reviewer and an end quality manager were appointed. A computer-aided translation tool was used to ensure that the terminology and repeated segments were always translated alike. Furthermore, work was carried out as a team together with an in-house member of the client, who received the translated files in a staggered fashion in order to validate their corporate terminology, hence including such terms in the remaining files to be translated.
If you need to request a quote or to be informed on any of our translation services, contact us by means of our
form
, by email to
info@planetlingua.com
or by telephone on
+34
93 284 60 55
.